From El Paso Inc.: Consul general presents centennial gift to UTEP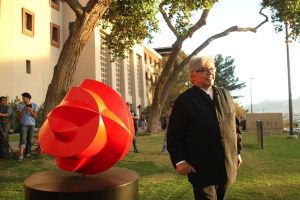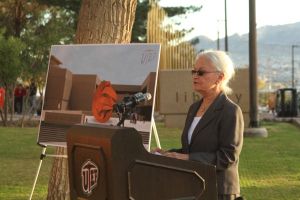 A gift to honor the 100th anniversary of the University of Texas at El Paso, and to recognize the strong ties between Mexico and the university, was revealed Thursday on the UTEP campus.
Jacob Prado, the consul general of Mexico in El Paso, disclosed the details. The gift is a sculpture to be created Mexican artist Sebastián, whose works include "La Equis," the large red X that stands in Juárez and is visible in El Paso.
For UTEP, Sebastián plans to create a semispherical object entitled "Esfera Cuántica Tlahtolli." Tlahtolli is a word that represents the act of speaking in early written documents from the Aztec, Toltec and Mayan cultures.
The interplay of geometric figures in the piece will emphasize the fraternity between UTEP and Mexico.
"With our unique border location and history of engagement with our neighbors to the south, the Sebastián sculpture's message has special meaning for us, and we look very much forward to seeing the completed work installed on our campus next year," said UTEP President Diana Natalicio, noting UTEP's many relationships with institutions and people in Mexico.
The sculpture's surface will also resemble a volute — a swirl shape that calls forth a rolled-up scroll — which will symbolize the activities of communicating and transmitting knowledge, thoughts and ideas that define quintessential university work.
The sculpture is part of Sebastián's larger quantum series that has been exhibited in Mexico, France and the United States.
The sculpture will reflect UTEP's connections to the people of Mexico and commemorate the shared respect between UTEP and the people of Mexico and support of higher education in the Paso del Norte region. It will be installed near the University library.
"This sculpture certainly will showcase a more current and accurate picture of today's Mexico, an image that reflects a culture of ancient origins, but at the same time, alive, vibrant, rich and diverse in artistic and scientific expressions," Consul Prado said.
The Centennial Office is located in room 403 of UTEP's Administration Building. Contact us at (915) 747-5362 or 2014@utep.edu.